PHILIPPINES COUPLES TRIP: ISLAND HOPPING IN TROPICAL PARADISE  
Come join us on an unforgettable trip to one of the most stunning and underrated countries in the world, where we will experience bucketlist adventures, embrace the rich culture and hospitality of the Filipinos, and witness some of the most beautiful islands and beaches you will ever lay eyes on.
COUNT US IN!
Why the Philippines?
Traveling to the Philippines offers an incredible and diverse range of experiences that make it a must-visit destination. With over 7,000 islands, this country boasts some of the most beautiful tropical islands on the planet, with crystal-clear waters, white sandy beaches, turquoise lagoons, and lush rainforests. It's a paradise for beach lovers, scuba divers, and nature enthusiasts who love to go off-the-beaten path.
Moreover, the Philippines is home to a vibrant culture and a warm, welcoming people, making it a perfect place to immerse yourself in local traditions and forge memorable connections.
Trust me, you don't want to miss out on this trip!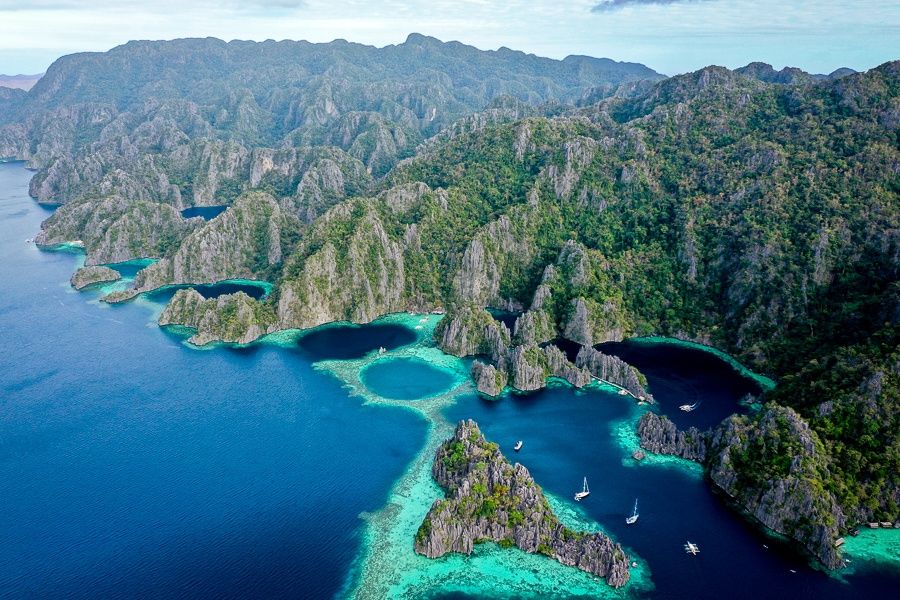 Philippines 2024 Couples Trip Details
When: June 17-25th, 2024 (with an optional 2 day add-on)
Who: Couples 21+ yrs who crave adventure and unique experiences in beautiful destinations, and want to make new friends with like-minded people!  *Please note this trip is limited to only 7 couples total.
What: An island hopping adventure starting in Cebu where we will swim with whale sharks and turtles, hike to turquoise waterfalls and gorgeous vistas, and go canyoneering in a lush canyon. From Cebu we will make our way to the beautiful island of Palawan where we will embark on a 3 day sailing expedition and explore remote islands around Coron. If you choose the 8 day option, your trip will end in Coron and then you'll return to Cebu on June 25th. However, if you choose to add two extra days, we will then fly to El Nido and spend two days there, which is famous for it's amazing beaches, hidden lagoons and towering limestone karsts. (See full itinerary below)
In addition, there will be optional mini photography workshops offered if you are interested in learning how to take better travel photos (even with your phone!). 
Cost: $5800/couple for 8 days or $6700 for 10 days (includes accommodations in mainly 4-star hotels with 2 nights in rustic beach bungalows (for the Coron island expedition), ALL meals, drivers and guides, 2 domestic flights (3 for 10 day option), excursions and photography workshops.) International flights excluded. Payment plans available (3 payments of $1600 or 6 payments of $800 + $900 for optional 2 day add-on).
*Only a $1000 USD deposit per couple is required to reserve your spot!
If you are interested in the Philippines women's trip (same itinerary, different dates), go here
Accommodations & Transportation
All lodging and transportation within the Philippines will be provided for you during the trip. We will be staying in mainly 4-star hotels in Cebu, Coron and El Nido with 2 nights in rustic beach huts or bungalows on the 3 day island expedition. Each couple will have their own room throughout the trip. *Keep in mind that El Nido is only for the 2 day optional add-on. See FAQ's for more details.
All other transportation and transfers once you arrive to the Philippines are provided including 2 short, domestic flights from Cebu to Coron and Coron back to Cebu. If you choose the optional 2 day add-on, there will be 3 flights (Cebu to Coron, Coron to El Nido, El Nido to Cebu). You need to arrange your international flights to Cebu City and back to your origin city (Mactan-Cebu International Airport). In addition, ALL meals will be included (breakfast, lunch, dinner) on this trip. Alcoholic beverages, snacks, tips for guides/drivers, and incidentals are NOT included with your fee.
Philippines Trip Itinerary
Day 1 (June 17): Arrival at Mactan-Cebu International Airport in Cebu City by 3PM, transfer to hotel (3.5 hours) in Moalboal, welcome dinner
Day 2 (June 18): Explore waterfalls on island of Cebu to include Kabutongan, Inambakan, Dao, Binalayan Falls
Day 3 (June 19): Whale shark/sardine run/turtle snorkel excursion
Day 4 (June 20): Canyoneering to Kawasan Falls, sunset hike to Casino Peak
Day 5 (June 21): Drive back to Cebu in AM, fly to Coron, visit Banul Beach, relax at resort
Day 6 (June 22): Island hopping expedition, stay in bungalow on remote island
Day 7 (June 23): Island hopping expedition, stay in bungalow on remote island
Day 8 (June 24): Island hopping expedition, return to Coron, relax at resort
Day 9 (June 25): Fly back to Cebu in AM or fly to El Nido (for 2 day optional add-on), kayak to beaches or relax at resort
Day 10 (June 26): Private charter island hopping excursion, sunset hike
Day 11 (June 27): Depart for Cebu City in AM, return home
*If you are interested in the Philippines women's trip (same itinerary, different dates), go here
Travel Requirements & Other Important Info
Currently the Philippines does not requires proof of COVID-19 vaccination of all visitors, however Typhoid and Yellow Fever vaccination (if traveling from a country where Yellow Fever is present) are strongly advised. To see a full list of recommended vaccinations, go here
A valid passport (must

have at least six months of validity at time of 

entry)
To see up-to-date travel requirements and restrictions for the Philippines, go here
For this particular trip, you should have decent fitness level and be able to swim and do short hikes. None of the activities or hikes we are doing are super strenuous, but having a good fitness level is ideal for your enjoyment and ease
Cancellation & refund policy
If you decide to cancel within the first 30 days of registering, I will provide you a 100% refund. After that, there will be NO refunds for cancellations, even illness. However, if unforeseen circumstances arise and I need to cancel the trip, I will either refund you or reschedule for an agreed upon time in 2024 or 2025.
Additionally, I will not provide any refunds 90 days prior to the departure of the trip, if you register within that time frame. Lastly, it is HIGHLY recommended to purchase travel insurance before the trip. This way if you need to cancel, you will be reimbursed by your travel insurance company.
Join us for an adventure of a lifetime!
This trip will surely be one for the books! Come adventure and relax with us in one of the most beautiful and adventurous destinations in the world. Make new friends with other like-minded couples. Experience a new country and culture that will beckon you to return. Learn how to better capture your beautiful memories in a way that you can be proud of. And walk away with an experience that will feed and lift your soul and most importantly, help you reconnect with your partner.
Frequently Asked Questions
If you have additional questions not listed below, don't hesitate to reach out to: [email protected]
When is the cut-off date to sign up?
Do we pay now in full or can we pay later?
Is it safe to travel to the Philippines?
What kind of weather should I expect and what do I need to pack?
What is required to travel to the Philippines?
What is NOT included in the trip cost?
When and where do we need to arrive in the Philippines?
Can we opt out of any activities?
What kind of food will we be eating in the Philippines?
Do we have to participate in the photography workshops?